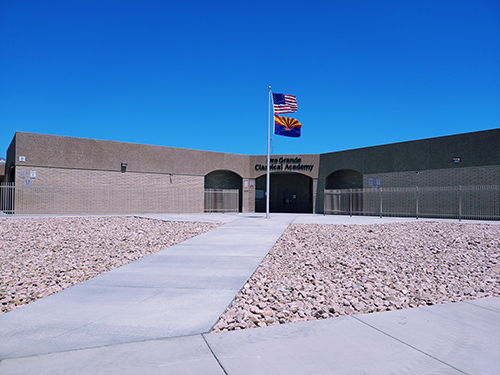 The mission of Oro Grande Classical Academy is to train the minds and improve the hearts of young people through a content-rich classical education in the liberal arts and sciences with instruction in the principles of moral character and civic virtue.
STUDENT PLEDGE / SCHOOL PLEDGE
"I solemnly promise to model and uphold the Academy's virtues of Justice, Temperance, Fortitude, Prudence, Friendship, Responsibility, and Wonder. I will follow these ideals to my best ability to bring honor to my school, family, and fellow scholar."

Start Time: 7:55 am (Breakfast available from 7:25 am - 7:50 am)
Dismissal Time: 2:30 pm
Early Release Dismissal Time (Thursdays): 1:00 pm
Parks and Rec : 2:30 pm - 6:00 pm; 1:00 pm - 6:00 pm (Early Release Thursdays)
Office Hours 6:30am ~ 3:00pm
All visitors please sign in at the office and get a visitor sticker.
Sign all students out in the front office.
If your child will be absent, please call the office at 928-505-6080 before 9:00 am.
An automated call will go out by 10:00 am to verify any unexcused absences.
Voicemail is available 24/7.