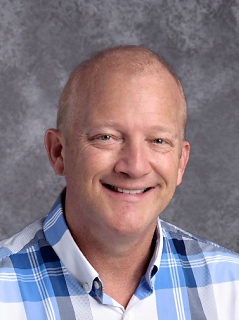 Mr. Brett Bitterman
Principal
Greetings to all parents and families of Oro Grande Classical Academy.

I am Brett Bitterman, and I will be starting my 5th year as the principal of Oro Grande. I have been a resident of Lake Havasu City since 2009 when my now wife and I arrived in the city to teach at Daytona Middle School. Since then we have found that Lake Havasu is our forever city. We have two beautiful boys and understand the importance of education. I feel strongly about the importance of working together as a community to model great respect in our partnership with our students.
The Oro Grande Classical Academy staff would like to welcome all of you to our 2020 – 2021 school year. As we prepare for the school year, I wanted to share some of the ongoing changes for safety for all of our students, staff, and citizens that arrive on our campus. Our campus landscape will show fencing and gates to protect our outside classrooms, as well as some major changes inside with our front office and the investment electronic doors that restrict hallway access. The district has been very proactive in developing these safety measures. We also will be paving the rock parking lot during this summer that will enhance our campus.
Our second full year of implementation of classical education to our students has been delayed until August 17th at this time, but we look forward to when we can welcome students on campus. I will continue to address new information in a newsletter as more information is provided and planned.
The mission of Oro Grande Classical Academy is to train the minds and improve the hearts of young people through a content-rich classical education in the liberal arts and sciences with instruction in the principles of moral character and civic virtue.